The best way to find awesome blogs and show others your blog seems to be using BlogHops and adding yourself on a linky. Interesting stuff I have learned lately about the blogging world.
So as many may know, I recently teamed up with a few other awesome bloggers and started a month long BlogHop.
HOWEVER, what you may not know is that...... This bloghop is NOT limited to
Mothers with Multiples!! It is for ALL Moms of all types!!
So please do let others know to come link up and get themselves added to
BLOGHOPPALOOZA!
INTRODUCING The Star of the Blog World for January 2011!!!!!!
You will see this on the 5 hosts blogs and hopefully more blogs all throughout January!!! It is a month long mega blog HOP!!!! Want more followers, get on board NOW!!!!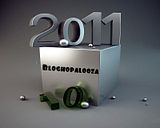 BlogHopPalooza
Your 5 Blog Hostesses
The Rules
1. follow the first 5 blogs..
2.leave a comment that they have followed so we may follow back.
optional BUT a
GOOD
idea for all
3.add the badge
4.feel free to blog about it and add linky
5.follow others and have a blast